What would you like to know about
Ninja

?
---
Content overview
You can find much more stuff about Ninja on this page!
Ninja

's net worth over the years
---
| Year | Net worth |
| --- | --- |
| 2021 | $29 million |
| 2020 | $24 million |
| 2019 | $17 million |
Age: How old is
Ninja

? Where was he born?
---
Hometown:
The famous gamer was born in
Detroit, Michigan, USA
, on
Jun 05, 1991
.
Age:

Ninja is 30 years old now

.
Nationality:

American/Welsh
Ethnicity:

White
Sign of the Zodiac:

Gemini
Ninja

's height and weight
---
Let's find out how tall
Ninja
is and how much he weighs.
Height in cm and feet:

172

cm

/

5 ft 8 in

Weight in kg and lbs:

61

kg

/

134

lbs
What is
his

real/full name?
---
Ninja
's real/full name is
Richard Tyler
Blevins
.
Is
Ninja

married? Does he have a girlfriend or wife?
---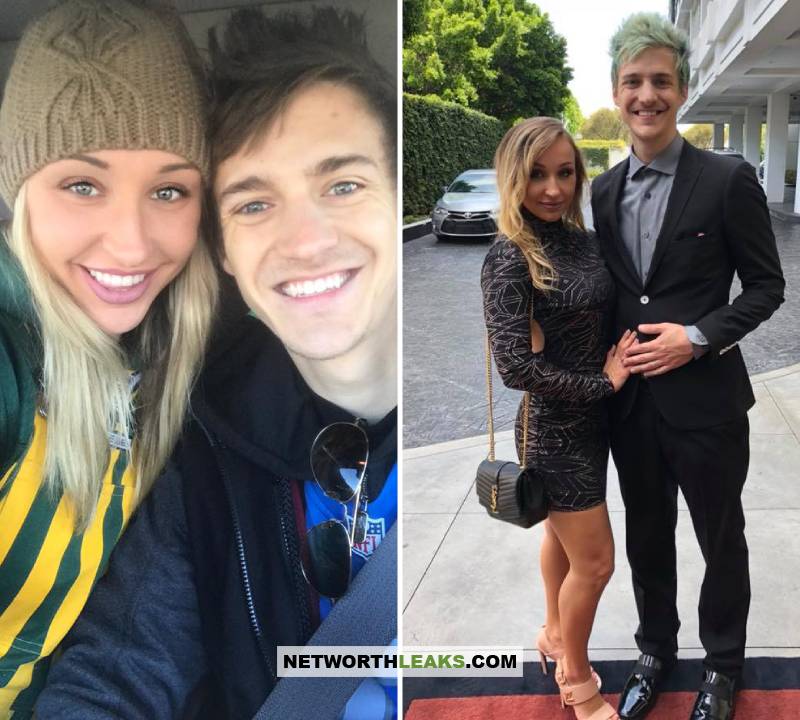 Wife: Tyler 'Ninja' Blevins is married to Jess Blevins (Jessica Goch) since 2017. She is also his manager and a gamer in heart too.
Jess is one year and one month younger than her husband.
The couple first met on a gaming event.
Family: Does Ninja have any brothers, sisters or kids?
---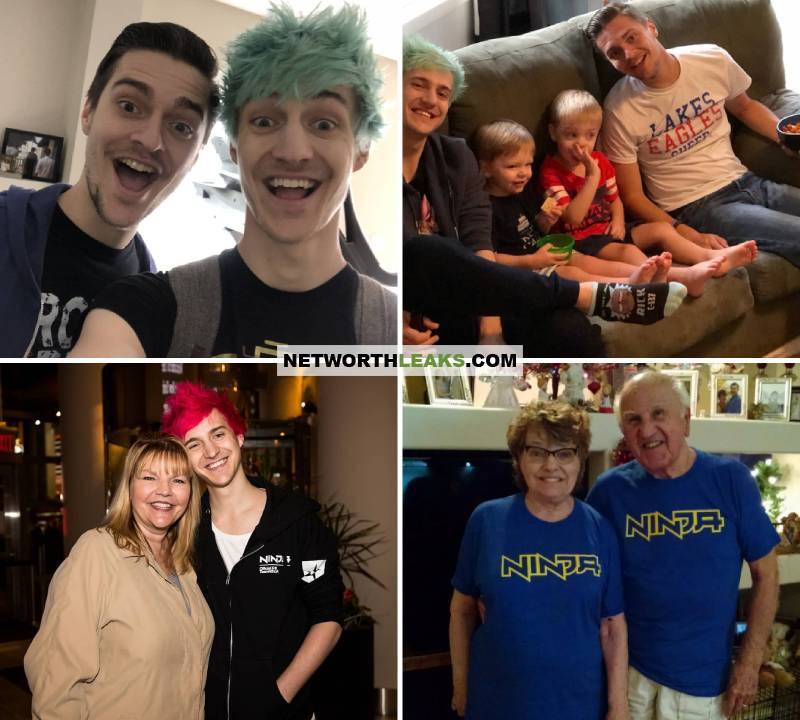 Kids: Ninja and his wife Jessica still don't have kids.
Siblings: Tyler 'Ninja' Blevins has two older brothers, Chris 'ninja_invictus' Blevins and Jonathan 'Bearded' Blevins.
Jonathan is the oldest brother and he is already married and has kids. Chris is also married and his wife's name is Julia.
Parents: Ninja's parents are Cynthia Blevins (mother) and Chuck Blevins (father).
On the photo above you can see Ninja with his brother Chris and with his nephews, Ninja with his mother and Ninja's grandparents.
Friends and associates
---
Find out who are Ninja's friends and associates:
Drake
Travis Scott
Mark Cuban
Myth
MoNsTcR
JuJu Smith-Schuster
Marshmello
CouRageJD
Eric Ebron
TimTheTatman
MrBeast
DrLupo
Trevor May
Ninja's house photos
---
Ninja and his wife Jess bought a house in the Chicago suburbs. The house cost them over one million dollars, which is no surprise since it has five bedrooms, a game room in the basement and even a theatre.
Ninja's game room is probably the most interesting part of the house for you, so we bring you this video created by Red Bull that shows you exactly that.
In this video you will also see some of the equipment that Ninja uses, but for a detailed list of the hardware that he uses and for his exact Fortnite settings check Ninja settings page on fortnitelist.com
Which cars Ninja owns?
---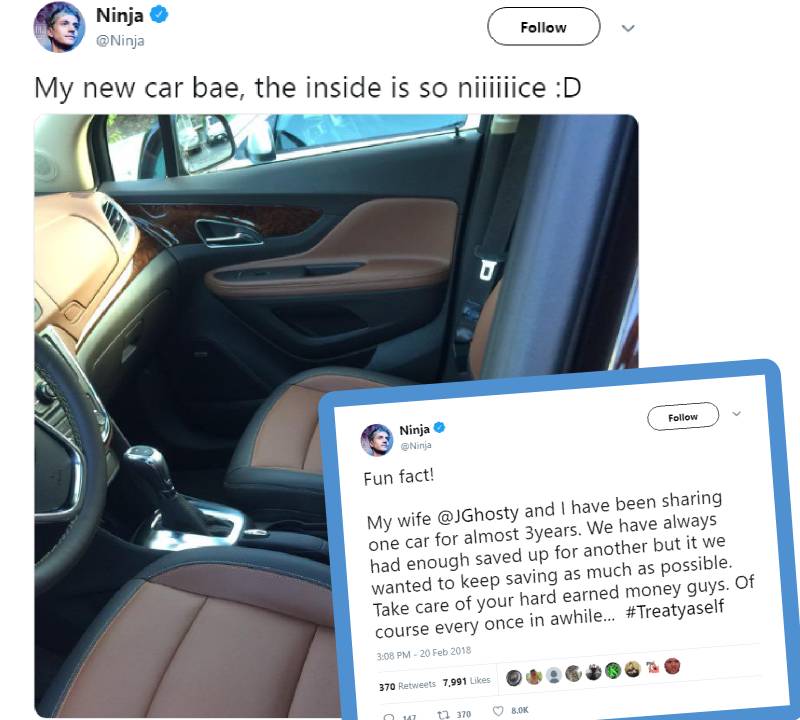 Although he can afford to have a big and expensive cars collection, Ninja has only one car, a Buick 2015 Encore.
He bought it in 2015 and he still drives it and shares it with his wife.
Here's the photo of his car and an important message to all of us.
Ninja's Merch
---
Ninja recently launched his own clothing line. You can buy his products on
teamninja.com
List of E-Sports teams that Ninja played for
---
The famous HALO and Fortnite gamer, Ninja, played for these E-Sports teams so far:
Cloud9
Renegades
Team Liquid
Luminosity Gaming
Tattoos
---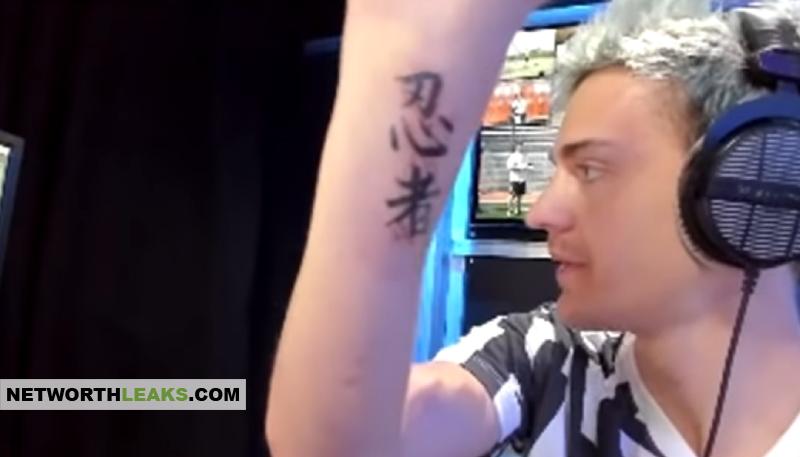 Ninja promised to his fans that he will get two tattoos if they donate money to St. Jude, which is a children's hospital in Memphis.
His fans donated $320,000 and Ninja already got his first tattoo.
He tattoed 'Ninja' in Chinese letters on his right arm. You can see the tattoo on the photo above.
Ninja's second tattoo will be inspired by Fortnite game. We will update the article as soon as he gets the second tattoo.
Ninja's quotes
---
We handpicked Ninja's best inspirational quotes for you:
---
You can't just drop everything and focus on playing video games for a living.
---
There is a deeper connection with streamers and viewers than any other celebrity or influencer - I'm live 12 hours a day; that's half my day I'm sharing with millions of people.
---
I feel like Drake saw that I was up-and-coming in the gaming scene, and he thought it would be a perfect way to just tap into another source of viewers by playing with me. He also might have just wanted to game. I'm not sure.
---
The more ways you can tell a story and paint a picture, the better it is.
---
I'm confident that no matter what game comes out, I'll be able to play at a top competitive level.
---
I always played videogames my entire life.
---
Gun skill is never the main reason why someone is talented at a game. It's literally their decision making.
---
'Fortnite' is cartoony, if you want to use that word, and that's going to a good turn-on for parents when they see their kids playing a game like that.
---
People that follow a bunch of people then unfollow for their ego or follower count... what is wrong with you.
---
Let's be real for a minute... 2018 was hands down the greatest year of my life. I have been working toward this goal my entire life, gaming since I was a kid. Take control of your destiny this year and make shit happen. Love you all
---
People can just put their cash away and continue to make money and never give back because they just do not care, but I immediately felt obligated to use my influence for good things.
---
Music makes everything better.
---
Love your friends unconditionally and love your family.
---
Education: Did Ninja go to college?
---
High School
Grayslake Central High School (Grayslake, Illinois)
College
Silver Lake College (Wisconsin, 2009-2010)
Ninja on social media
---
Here is the list of all Ninja's social media accounts:
Facebook profile: /
Facebook page: 420,000+ followers
Instagram: 12,700,000+ followers
YouTube: 21,352,000+ subscribers and over 1.6 billion views!
Twitch: 13,266,000+ followers
Google+: 1,500+ followers
Twitter: 3,900,000+ followers
Snapchat: Ninja doesn't have a Snapchat account.
LinkedIN: /
TikTok: /
Musical.ly: /
Vine: /
Trivia: Did you know these facts about Ninja?
---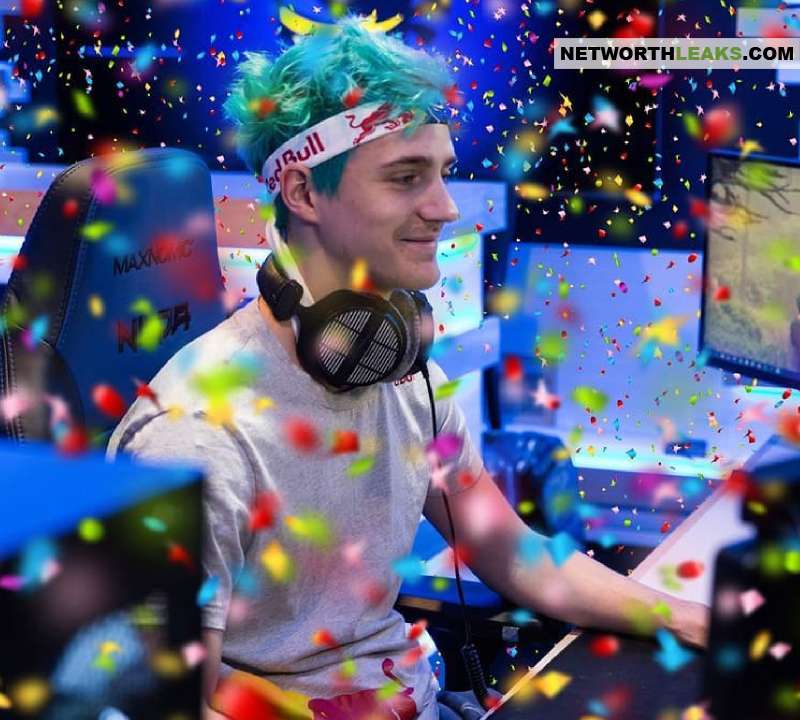 Jobs before the fame: Before he became a famous streamer, Ninja was working at a restaurant called Noodles & Company.
Famous for: Streaming video games (mostly Fortnite) on Twitch and YouTube.
Years active: Since 2009
Nicknames: Richard Tyler Blevins 'Ninja' is also known as Ninjashyper.
Religious views / Religion: /
Eye color: Blue
Hair color: Naturally light brown. Currently green.
Sexual orientation: Straight
Plastic surgeries: Ninja hasn't undergone any plastic surgeries.
Phone number: Lots of people search for Ninja's phone number on Google each month, but he never posted it on the Internet. If you find his phone number somewhere on the web, that will probably be a fake number.
E-mail address: You can contact Ninja at business@teamninja.com
Favorite color: /
Favorite number: /
Favorite food: /
Favorite celebrities: /
Favorite athlete: /
Favorite basketball team: /
Favorite bands: /
Favorite superhero: /
Favorite movie: /
YouTube views: Ninja's YouTube channel has over 16.7 billion views.
Pets: Tyler 'Ninja' Blevins and his wife Jess have a dog whose name is Navi.
Lookalikes: /
Ninja's Fortnite stats
So far Ninja played over 14,300 Fornite matches and he got over 98,600 kills.
Why Ninja doesn't stream with women?
Ninja decided not to stream games with other women, to avoid having problems with his wife Jess. Prevention is better than cure.