What would you like to know about
Chance The Rapper

?
---
Content overview
You can find much more stuff about Chance The Rapper on this page!
Chance The Rapper

's net worth over the years
---
| Year | Net worth |
| --- | --- |
| 2020 | TBA |
| 2019 | $36 million |
| 2018 | $31 million |
| 2017 | $27 million |
Age: How old is
Chance The Rapper

? Where was he born?
---
Hometown:
The famous rapper was born in
Chicago, Illinois, United States
, on
Apr 16, 1993
.
Age:

Chance The Rapper is 25 years old now

.
Nationality:

American
Ethnicity:

African American
Sign of the Zodiac:

Aries
Chance The Rapper

's height and weight
---
Let's find out how tall
Chance The Rapper
is and how much he weighs.
Height in cm and feet:

178

cm

/

5 ft 10 in

Weight in kg and lbs:

82

kg

/

181

lbs
What is
his

real/full name?
---
Chance The Rapper
's real/full name is
Chancelor Jonathan
Bennett
.
Is
Chance The Rapper

married? Does he have a girlfriend or wife?
---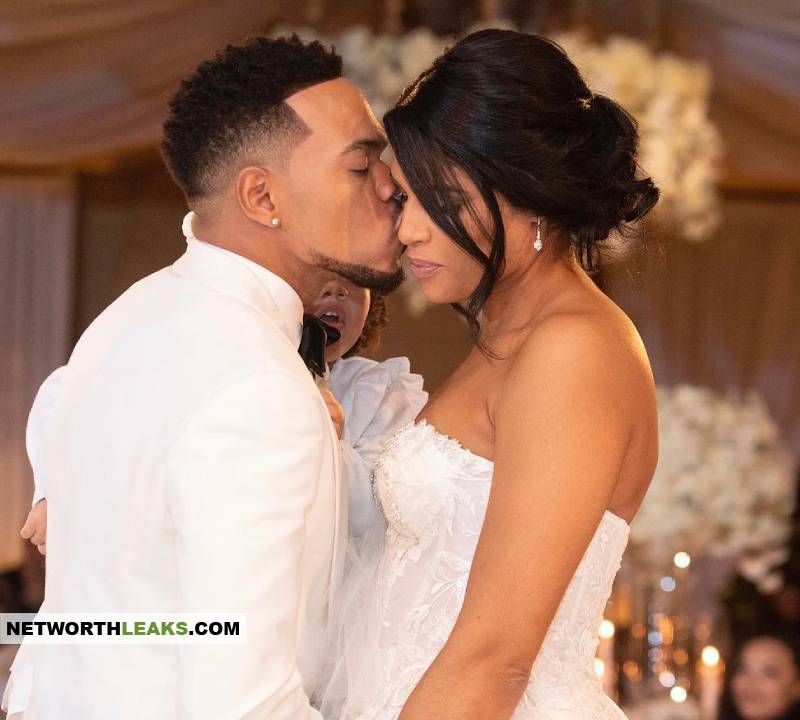 Wife: Chance The Rapper married his long time girlfriend Kirsten Corley on March 9, 2019.
Kirsten was also born in 1993, like her husband, and she is a former model.
They had a beautiful and luxurious wedding at Pelican Hill in Newport Beach, California.
The cost of the wedding is estimated at $200,000. Only the venue price is over $125,000, the limousine service cost over $5,000 and there were many other additional costs.
Many famous colleagues attended the wedding, including one of the most popular couples in the world - Kanye West and Kim Kardashian.
Before the wedding
The couple first met back in 2002 when they were only 9 years old.
They are together since 2014 and in September 2015 Kirsten and Chance The Rapper got a daughter.
Family: Does Chance The Rapper have any brothers, sisters or kids?
---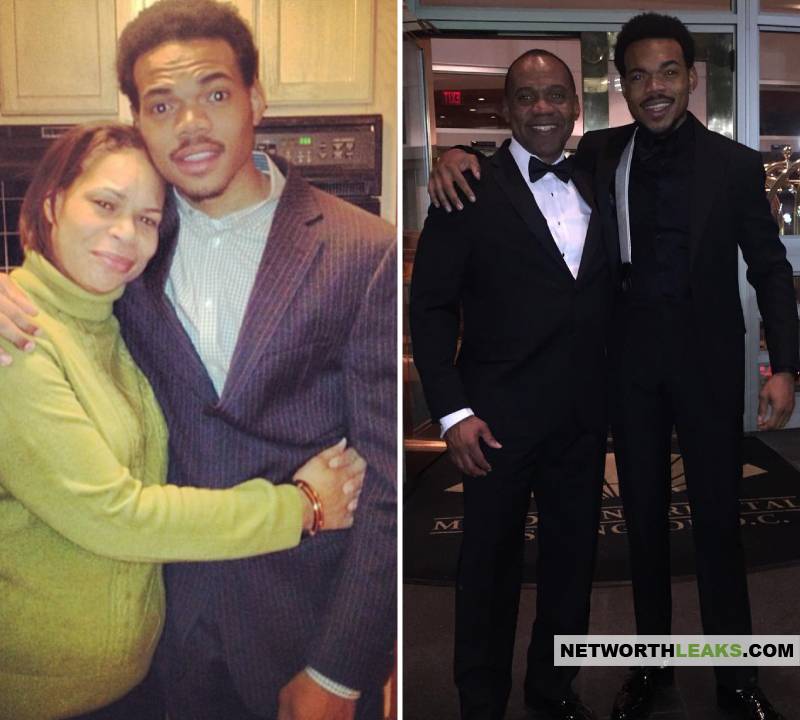 On the photos above you can see Chance The Rapper with his mother and father.
Parents: Chance The Rapper's mother's name is Lisa Bennett and his father's name is Ken Bennet. Chance The Rapper's father is also known for working for Barack Obama and Democratic Party.
Siblings: Chance The Rapper has a younger brother whose name is Taylor Bennett. Taylor is a rapper too.
Kids: Chance The Rapper has a daughter with his wife Kirsten Corley. Their daughter was born in September 2015 and her name is Kensli Bennett.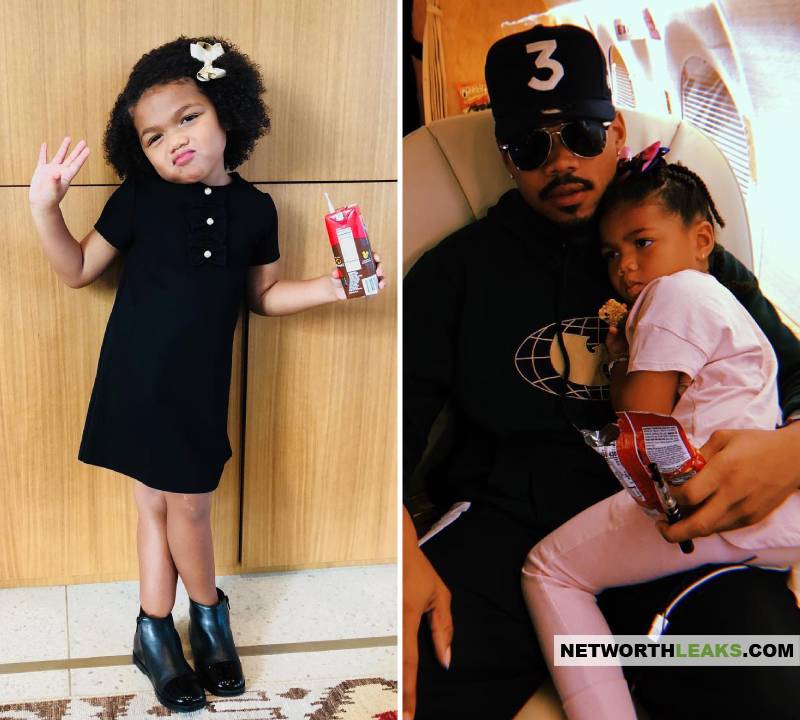 On the photo above you can see Chance The Rapper with his daughter Kensli.
Friends and associates
---
Find out who are Chance The Rapper's friends and associates:
2Chainz
Lil Wayne
Vic Mensa
Twista
Saba
Justin Bieber
Towkio
Childish Gambino
James Blake
Jimmy Butler
Doug McDermott
Pharrell Williams
Barack Obama
Michelle Obama
Dave Chappelle
Chance The Rapper's house photos
---
In 2018 Chance The Rapper bought an luxurious apartment in his hometown, Chicago.
It cost him $4 million! You can see the crib in the following video:
Which cars Chance The Rapper owns?
---
Cars collection: Chance The Rapper can afford any car that he wants, but he doesn't post photos of his cars on his social media account, so we don't know which cars exactly does he own.
Although he is very young and rich, he is not bragging with his cars on Instagram, which is rare in today's society.
Tour dates and upcoming events
---
You can find Chance The Rapper's latest tour dates at his official website: chanceraps.com/tour
Chance The Rapper's Merch
---
You can buy Chance The Rapper's official merch (hats, hoodies, shirts, stickers, lighters, etc.) on chanceraps.com/shop
Best songs list
---
Here is the list of Chance The Rapper's most popular songs:
Tattoos
---
Chance The Rapper has only one tattoo.
The tattoo says 'Get back to work'.
In an interview he told that he regrets getting the tattoo and that now he thinks it's stupid.
Chance The Rapper's quotes
---
We handpicked Chance The Rapper's best inspirational quotes for you:
---
I can't gain anything off of anyone else not succeeding.
---
Something I try to instill in others is to just be a good person. It's a decision you make a million times a day. But if you just keep trying, good stuff comes to you in an ordained way.
---
Sometimes the truth don't rhyme, sometime the lies get millions of views.
---
Everybody's somebody's everything. I know you right. Nobody's nothing. That's right.
---
The weird thing about rap is that you don't get compared in the same way that athletes do, even though it's probably the most competitive sport in music. In basketball, they look at a player and say: 'This guy was the best in his prime at this sport.' But in rap it's not until you're dead or retired that people think about it like that.
---
The idea of 'talking white,' a lot of people grew up around that, just the idea that if you speak with proper diction and come off as educated that it's not black and that it's actually anti-black and should be considered only something that white people would do.
---
I think even before I knew I wanted to be a rapper, I wanted to be an entertainer. I was really into Michael Jackson as a kid.
---
I think I always knew I wasn't gonna have a regular job. I don't think I really knew I was going to be a rapper until sixth grade. Even then, it was still kind of—I was in sixth grade. I was always saying I was going to become a rapper.
---
Both of my parents graduated from high school, both attended college, both have government jobs now. They've always been very adamant about me finishing high school and finishing college.
---
Kanye took me from a kid who listened to music to a kid who lived music.
---
The people's champ must be everything the people can't be.
---
There's not really a responsibility at all to tell people of your accomplishments, but I think in Kanye's situation, it's Kanye West.
---
I don't know how to attack that question. Obviously violence doesn't come from music, that's stupid. That's not the answer, that's not right. But music can be very influential especially on a viral basis.
---
I never really liked the idea of rap being a competitive thing. It's not.
---
I'm lucky to be in a space where I've been accepted for who I am and celebrated for who I am.
---
Clean up the streets so my daughter could have somewhere to play.
---
For me, performing is the biggest part of being a rapper. There's nothing like the feeling of screaming your story to people.
---
The problem is that my generation was pacified into believing that racism existed only in our history books.
---
I didn't know love until I had my daughter. I didn't know its bounds.
---
I don't really like meetings, I like recording and performing music. I need to set myself up for when the time does come that I need better distribution or just a bigger team behind me.
---
My father always told me that my legacy would be my children. And I think the most important thing about creating is the way that your music interacts with people, and the period that it's released in, and the periods that will have it after your death, and how it'll work in the world.
---
I don't really see myself ever needing a house in Paris or some freaky shit like that. I just want to get old in Chicago and be with my homies and make dope music and randomly come to Harvard and give a lecture. I thought you guys were troubled kids and shit and I was coming to talk to you about getting your lives together!
---
Some people are so poor, all they have is money.
---
Mixtapes have always been a guerrilla-style means of moving music.
---
My favorite artist in the world is Michael Jackson, and he revolutionized the music video aspect of music.
---
I'm still a very frugal person. But everything that does get spent is a reinvestment into my own music.
---
My grandmother is a huge part of my life. She's just a great woman: a woman of the church.
---
I've never met Eminem; you don't meet Eminem. He has his own secret service.
---
Education: Did Chance The Rapper go to college?
---
Chance The Rapper dropped out from a community college after just one week, as he became a famous rapper at a very young age.
High School
Jones College Prep High School
College
Trivia: Did you know these facts about Chance The Rapper?
---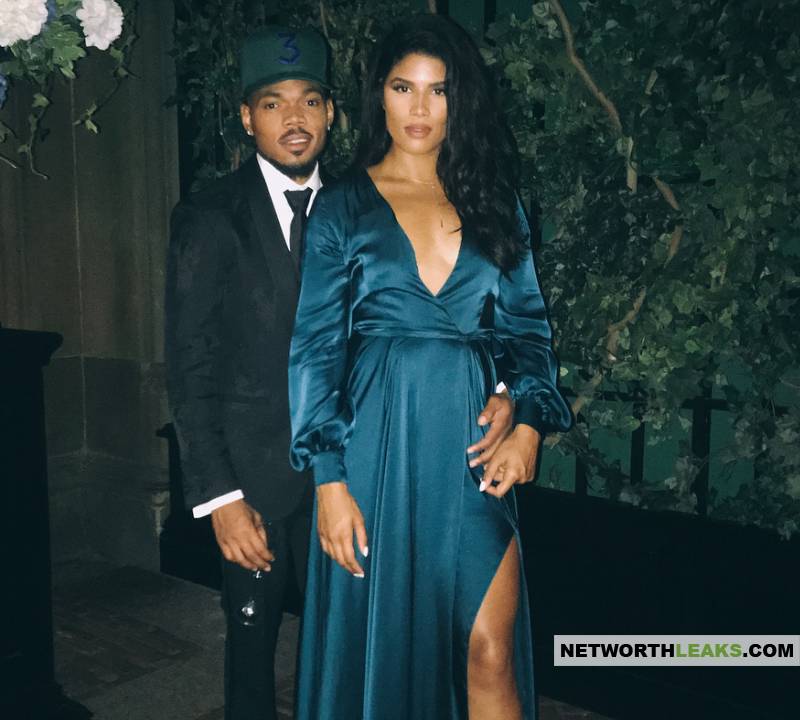 Jobs before the fame: Chance The Rapper never had a regular job, as he became a famous rapper at a very young age.
Famous for: His songs, rap career
Years active: Since 2011
Nicknames: Chancelor Jonathan Bennett is also known by his nicknames Chance The Rapper and Chano.
Religious views / Religion: Christianity
Hobbies: /
Eye color: Dark brown
Hair color: Black
Sexual orientation: Straight
Plastic surgeries: Chance The Rapper hasn't undergone any plastic surgeries.
Phone number: Lots of people search for Chance The Rapper's phone number on Google each month, but he never posted it on the Internet. If you find his phone number somewhere on the web, that will probably be a fake number.
E-mail address: Chance The Rapper's email address is
shopchancetherapper@gmail.com
Favorite color: /
Favorite number: /
Favorite food: /
Favorite celebrities: /
Favorite bands: /
Favorite football club: /
Favorite superhero: /
Favorite movie: /
YouTube views: Chance The Rapper's YouTube channel has over 300 million views!
Pets: Chance The Rapper has a dog.