3 Of The Best Ecommerce Platforms And Solutions 2019: Shopify Vs Volusion Vs Ecwid
Some of the world's largest commercial sectors have undergone a transition that has made it important to have a virtual address on the web. Numerous interconnected activities and functions depend on a streamlined online process, and this requires robust ecommerce solutions.
A good e-commerce software transforms the way online store owners and shoppers connect without conventional barriers. Online shop owners specifically launch their website with the world's best ecommerce solutions that encourage adaptability and flexibility to scale bigger goals. Explained below are the three most famous e-commerce platforms.
Shopify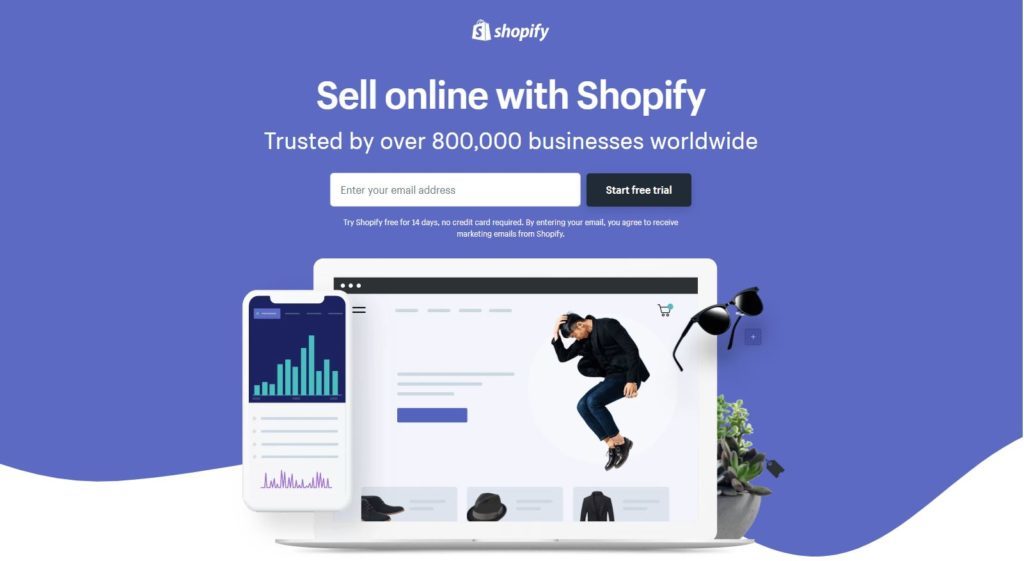 Shopify offers complete ecommerce solutions for enterprises that believe in creating a revolutionary business model and breaking the rules of conventional e-commerce. With innovation at every step, Shopify is your brand's tech company, marketing powerhouse, and a retail partner all in one. Shopify Plus offers the most dynamic ecommerce solutions for rapid migration and a ground-breaking, multi-channel e-commerce experience that reaches global marketplaces and beyond.
Volusion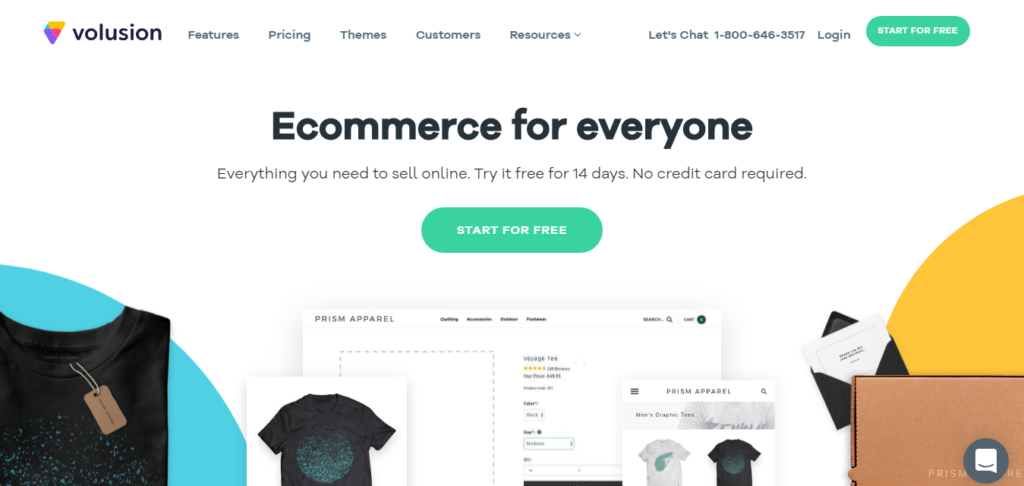 Volusion is an all-in-one platform that provides scalable ecommerce solutions for businesses of any size. It also provides services to freelancers. This platform provides you with amazing functionality at every phase of building your online store and well beyond it. With certified technology partners, Volusion keeps options easily accessible through a spectrum of powerful apps and integrations.
Ecwid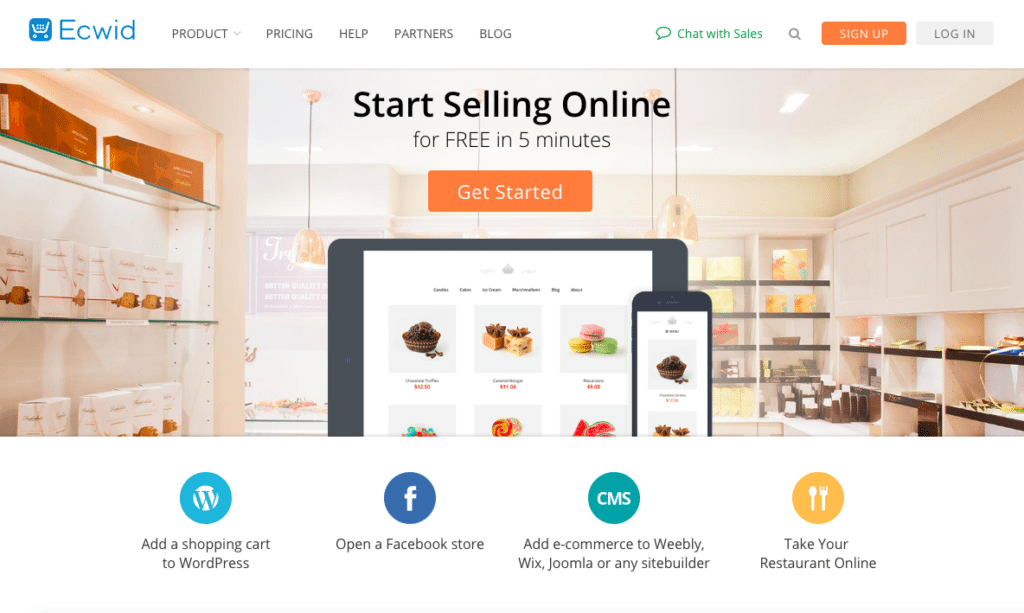 Online selling takes a refreshing route with Ecwid. It encourages businesses to either set up a new store or add to their existing one without glitches. This virtual platform builds your website with the freedom to operate multiple online stores. Your business can reach its maximum potential with social media and mobile device integration with Ecwid.
A Comparison Between Shopify, Volusion, And Ecwid
These e-commerce platforms operate with a mission to provide the best ecommerce solutions to clients. Some of the differences between the three are explained below.
Flexibility And The Ease Of Use
Shopify's handy dashboard with well-organized features helps create, develop, and customize your website. It gives you great flexibility and advanced customization options during the designing process. Whatever part of the web page you are designing, there is complete freedom to get creative. Also, Shopify offers you mobile-ready features and easy-to-understand tools.
Volusion combines creativity with functionality to create responsive websites in minutes. Though its tools are limited, it offers ground-breaking ecommerce solutions that help online storefronts achieve their objectives. 
Ecwid is a simple simpler and effective way of building online marketplaces. It's a new addition to the e-commerce domain, providing robust e-commerce solutions for innumerable sellers. This platform is easy-to-use on any device and is available in over 175 countries, with support for 50 languages.
Apps And Add-Ons
Shopify provides unmatched ecommerce solutions for your online marketplace with hundreds of add-ons available, across several categories of the website. The Shopify App Store has a variety of the latest apps that help manage and enhance every aspect of an online store. And, with over 1,500 app integrations, managing your online storefront is a piece of cake. However, every add-on comes at a specific price.
Though it doesn't have variety or a dedicated store for apps, Volusion still delivers tools and add-ons that are innovative. It's still a good choice for promoting your website, ROI tracking, creating and viewing reports, or social media integration.
Ecwid has all the basic tools and built-in apps to oversee your store management and provide a favorable customer experience. However, a new platform on the e-commerce field, Ecwid is on its way to upgrade into a complete ecommerce solutions provider.
Marketing And SEO
Marketing your online store with Shopify is an adventure in itself. Shopify enhances your marketing activities with cutting-edge tools, techniques, and features that converts your store into a dynamic e-commerce hub. You can create campaigns on Google and Facebook, put your marketing activities on automation, and enhance performance with real-time insights.
SEO tools on Volusion let you manage all your web pages and keep them updated without a fuss. You can conveniently link your social media accounts to your online store and sell on Facebook, eBay, and Amazon. Facebook Store Management and ROI tracking help you keep track and take measurable actions without leaving Volusion.
Ecwid is an ideal solution for all your e-commerce problems revolving around effective marketing and selling activities. Facebook campaign creation, Google advertising, and real-time tracking on the Ecwid dashboard help your brand reach the masses quickly. Its sophisticated tools let you sell on various social media platforms and international marketplaces like eBay and Amazon.
Payment Gateways
There's nothing more convenient than a streamlined and secure, online payment processing system. Shopify strongly believes in providing the most simple yet effective payment options. You can start receiving payments instantly through any way the customers wish to pay. The integrated back office lets you keep track of orders and payments in a single place. Shopify also has its own in-house app called Shopify Payments.
Convenient payment processing on Volusion lets customers pay with credit cards, Amazon Pay, cash, wire payment, PayPal, Stripe, electronic checks, and money orders. Just like Shopify, the payment processing enjoys a secure PCI-certified checkout process.
Enjoy over 50 payment solutions on Ecwid for quick and secure payments. FirstData, PayPal, Stripe, WePay, Authorize.net, and many other payment processing parties make online shopping on Ecwid a secure and enjoyable experience.
The Final Word
This comparison gives a fair picture of sophisticated online web designing platforms,  providing the most desirable ecommerce solutions. Volusion and Ecwid bring a series of revolutionary features and online store solutions that help you run a comprehensive e-commerce website. However, Shopify wins due to its dynamic package that combines the basic and most advanced ecommerce solutions, enabling online merchants to reach their maximum potential.