Lil Nas X Quotes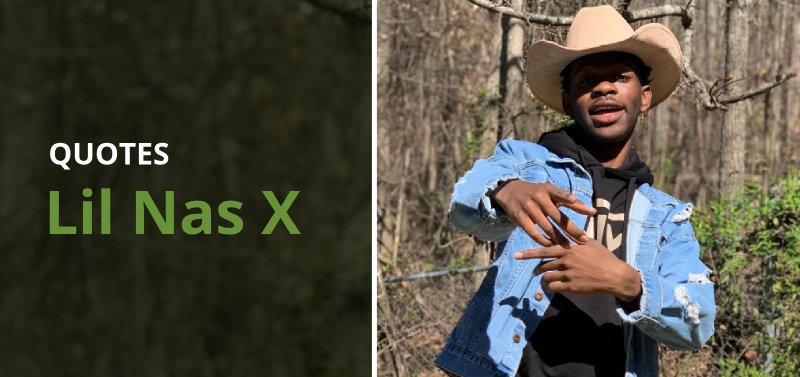 Here is the full list of wise, inspiring, funny and motivational quotes by the rapper, Lil Nas X, that we handpicked for you:
u can literally scroll down my account (Twitter) and see my promoting this f*ckin song for months. each accomplishment it gets just makes all this sh*t feel so worth it. i can't stop taking about it.
i am a troll 1st and a musician 2nd. priorities.
ppl with degrees and no jobs, exist. but i'm done discussing this. we all have different outlooks. good luck to everyone.
i'm finna start acting, designing, modeling, investing in startups, and every fucking thing. i'm so ready for this sh*t
i know y'all think i'm just some goofy meme nigga who got lucky but the truth is i'm some goofy meme nigga who promoted the hell out of his song AND got lucky.
it hit me that i was famous last night when someone started recording me while i was tryna steal grapes out of publix
honestly the reason i'm not dropping new music right now is because old town road is literally still growing. i mean the damn video still hasn't dropped yet. i'm gonna milk tf out this song til i cant no more.
whoever on here posting my nudes better post the good ones too
wen i was 10 watching billy ray sing i want my mullet back on hannah montana, i was like wow i have to make a song about horses with this man.
hitting #1 on billboard on my birthday wow
i swear if i find out i'm an alien in a earth simulation imma be mad asf
i been rapping for 4 weeks why am i not rich and famous yet?
My dad initially was like, 'there's a million rappers in this industry,'
Before it was even taken off the country charts, I was just happy to be on Billboard at all. Even after they did take it off, I was like, 'Okay, at least I'm still on Billboard.'
Poll

Loading ...